Summer Camp
Laurel Ridge summer camp provides a life-changing experience that nurtures belonging, exploration and spiritual growth, with an emphasis on fun! Our friendly and compassionate staff and counselors strive to create a safe environment and a community where faith, love, and hope prevail. Our goal is to send campers home as beloved children of God, feeling confident in their own identity and gifts, and with a renewed appreciation and care for God's amazing creation and the deep friendship of their fellow campers.
We offer several summer camp experiences for kids ages 6-18, as well as a camp for the whole family! Our summer camp experience helps campers grow in their Christian faith while creating lasting friendships amid the beauty of God's creation. Each week of camp explores a different theme, which campers experience through hands-on activities, group conversations, worship, and song.
Mission Camp
Laurel Ridge Mission Camp coordinates Moravians and others as they engage in service and ministry and raise awareness of the Gospel message. Moravians have always celebrated their faith through service and mission work locally, regionally and globally. Each year, many individuals visit the mountain, stay at Higgins Lodge, and head out into the nearby Blue Ridge Mountains to make life better for their neighbors. There's no question that our service to others results in a sense of common unity and identity from serving together and with others. Youth groups from a variety of denominations, mission and outreach committees, families, and others come together each summer to serve the larger surrounding community.
Mission Camp
Mission Camp offers an intensive, one week trip that help people grow in Christian faith through service. Adults and youth will spend their time in the Blue Ridge Mountain community performing hands-on repair for elderly, low income, and disabled families. Since Laurel Ridge began to offer Mission Camp in 2004, projects completed include:
Porch Repair or Construction
Step Repair
Exterior or Interior painting
Weatherization
Wheel Chair Ramp Construction
Roof Repair
Mission Camp 1: June 12 18, 2022, Bishop Chris Geisler
Mission Camp 2: July 3 – 9, 2022, Bishop Sam Gray
Mission Camp 3: July 24 – 30, 2022, Rev Rebecca Craver
Mission Camp 3: July  31 – August 6, 2022, Zach Routh
"G.R.A.C.E Gifted for God, Created for good"
After a busy day of helping the community, campers will learn from the verse Ephesians 2:8.  What is Grace?  They will spend time about God's gifts to us, what our response should be, why He is always amazing, creation care and why it is important, and Everybody else and how we share that grace with others. 
Specialty Camp
There is never a bad time to come to Laurel Ridge! Whether it's creative arts, fellowship with friends, time with family, or more, check back here frequently to discover more ways to be on the mountain!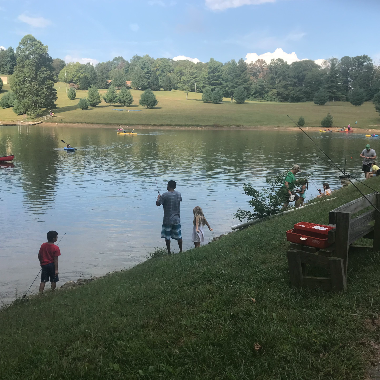 Family Camp
Need a break from the hustle and bustle of busy weekly schedules? Missing the "top of the mountain" feeling? Experience camp your way, with a flexible schedule of activities designed to be exciting for kids and relaxing for adults. This intergenerational camp is perfect for large and small families, alike!
Spring: May 27 – 29, 2022
Fall: September 2 – 4, 2022
Loving others like God has shown us to love through His love toward us!
Theme: Recipe for Love – 1 John 4:19
Event Details: Arrive Friday afternoon between 4:00- 7:00pm with dinner provided (6:00- 7:00pm). Enjoy time on the mountain to fish, hike, hammock, play basketball, volleyball, or other games. We will gather together for four sessions for the families to reconnect with each other and God so that they can go out to show their love to the world! Campfires will be held every night!
Leaders: Heidi Everhart, Friedberg Moravian Church Director of Children's Ministries, and Jami Vandock, Raleigh Moravian Director of Christian Education.
Cost: $50.00 per adult | $40.00 for ages 4-12 | free for children under 3
Lodging: Summer Camp Cabins (one per family)
Creative Arts Camp
Engage your creative side as you work on a variety of art projects and camp crafts – together and individually. You'll also have plenty of time for building community with new friends, growing closer to God, exploring nature, and experiencing lots of camp activities, games, and worship!
June 19 – 25, 2022
"A HeART for Serving"
Jami Vandock and Joyce Vance
Campers will spend time each day learning Bible stories that include people of action.  They will learn how to live together in community, sharing with others, how the gift of creating things and cooking can help others.  They will learn how a simple act of kindness can make a person feel loved.   
They will learn each day by using drama, creativity and making music in various ways. They will learn  Handbells, singing, storytelling, Story and stretch, and visual arts skills.  
At the end of the week they will put together a gala that you will be able to enjoy anytime you wish.  It will be available with a link to the video. 
Winter Camp
Camp… in the winter? Yes, you read that right! Winter Camp is a great chance for youth to enjoy some outdoor fun and faith development during their holiday break from school. Campers will spend four nights at Higgins enjoying all their favorite camp activities, plus a few new Wintery ones as well!
December 28 – 31, 2021 – CANCELLED
December 28- 31, 2022
Questions?
Have a specific question about one of the many wonderful camps at Laurel Ridge? Please reach out to Scarlett Dowdy!
"Our organization views protecting children and youth as an integral part of our mission.  we have a zero-tolerance policy for child abuse and mistreatment of any kibd in our organization and consistently employ many policies and practices to ensure the safety of children in our care."