Food can take any event from good to great! We understand the importance of having the perfect dining experience to make any event a success! Let us cater your event with our customizable options that will fit any budget and dietary restrictions.
Sharing a meal with friends!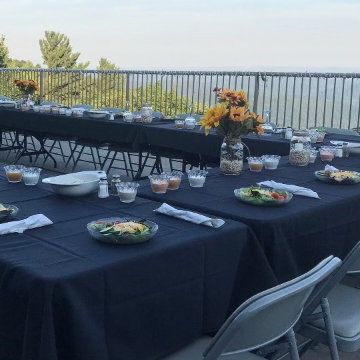 Standard Buffet Meals
Menus for these meals are chef's choice served buffet style with every effort made to meet a broad range of food preferences. Lunch and Dinner options include 1 meat entree, 1 vegetarian entree, sides, a salad bar, and dessert.
Beverages include coffee, hot or iced teas, juice, and milk. Standard meal times are 8:00 am for breakfast, 12:00 pm for lunch, and 6:00 pm for dinner.
Beverage & Snack Services
The Laurel Ridge staff is happy to provide beverage and snack services for your meeting or event. We can offer these services in your meeting room or in an area adjacent to your meeting room, both continuous or timed during your event.
Bagged Lunch
Sometimes your event plans can take you off the mountain for a day trip, or an attendee might need to leave early to catch a flight, whatever the circumstances, we can assist with bagged lunches. These simple meals in a bag are sure to satisfy and offer a convenient option for any event.
Picnic on the Mountain
From a quiet couples getaway to a family adventure on the top of our mountain or exploring the Blue Ridge Parkway, we're happy to pack a picnic basket! No need to worry about anything, we will even throw in a blanket for your adventure outdoors!
Special Event Meals
Interested in a special culinary experience? We are happy to help bring these ideas to life! From a plated elegant dinner to a southern-style barbeque, we can accommodate a range of food requests.